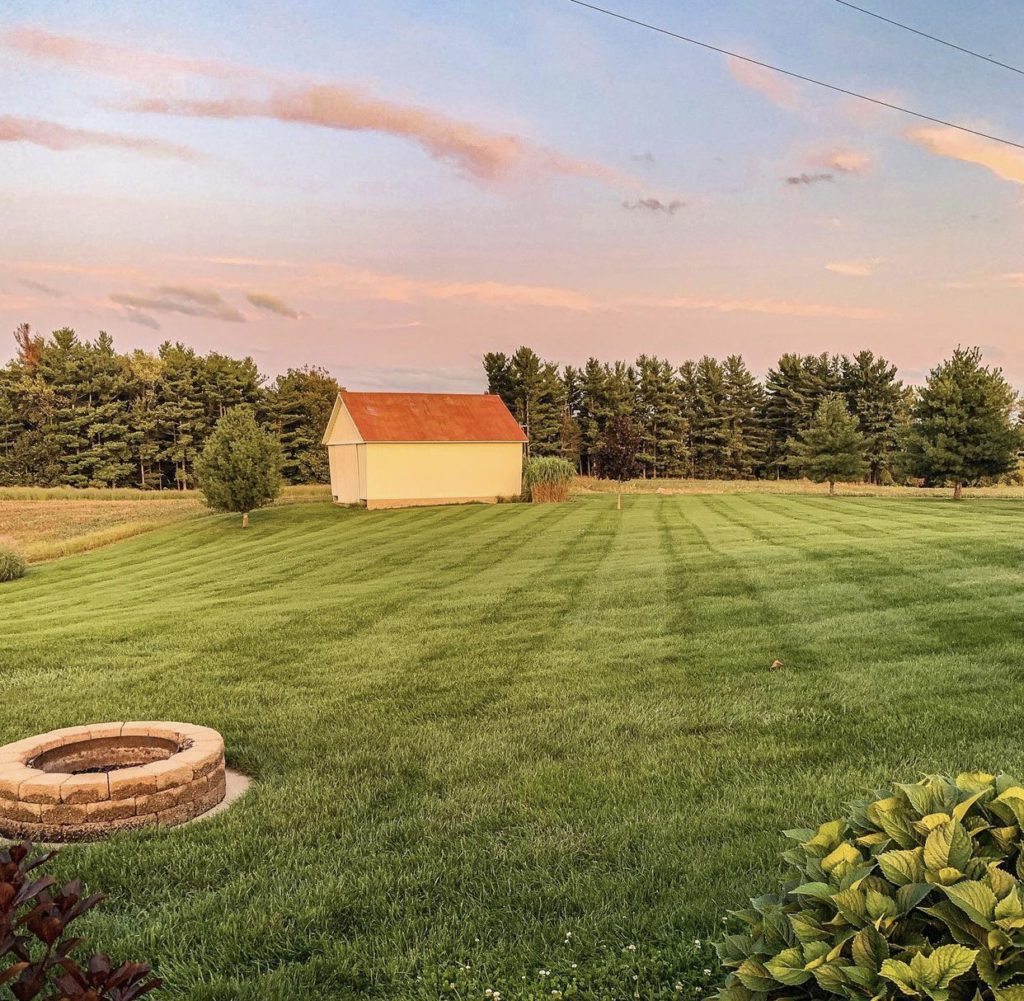 Fall is one of the best seasons in Michigan. Local cider Mills open, the weather cools down, and leaves start to change colors. Fall is also the perfect time to check off your to-do list and ensure your yard is ready for the Michigan winter to come. After a hot and dry summer, it is best to give your lawn proper TLC before the first freeze. With fall, comes more rainfall which also means more growth for the lawn in September and October. Michigan has cool season grass, its fastest growth is in the spring and fall. The grass grows fast during this time because the lawn is absorbing nutrients and preparing to go dormant for winter. To prepare your lawn for winter, here are some of the best fall lawn care tips for Michigan homeowners:
Although fall temperatures are coming, let your lawn be the one to tell you when it's time to stop mowing. It might be tempting to put up the mower, but as long as your grass is still growing, it should be cut. Going into winter with an overgrown lawn can cause the grass to fall over and mat. Matted grass can lead to the growth of mold and fungi. Keeping your grass short in the fall will help reduce disease development in the winter. If you start to notice brown patches or areas with no growth, you should consider reducing or stopping mowing the lawn altogether.
With LawnGuru's skip and pause features, it is easy to manage your lawn during Michigan's unpredictable fall growing season.
Fall foliage in Michigan also means lots of leaves and debris to clean up. It is important to clear your lawn of all debris before fall is over, that way nothing freezes on top of your grass during the winter. If your lawn is covered by debris in the winter, the grass will likely die due to lack of oxygen. Fall clean ups also prevent issues like fungi and diseases which can harm your grass and spread across your lawn.
The best way to ensure your lawn is cleared before the first freeze, is to schedule an early yard clean up and watch Michigan temperatures.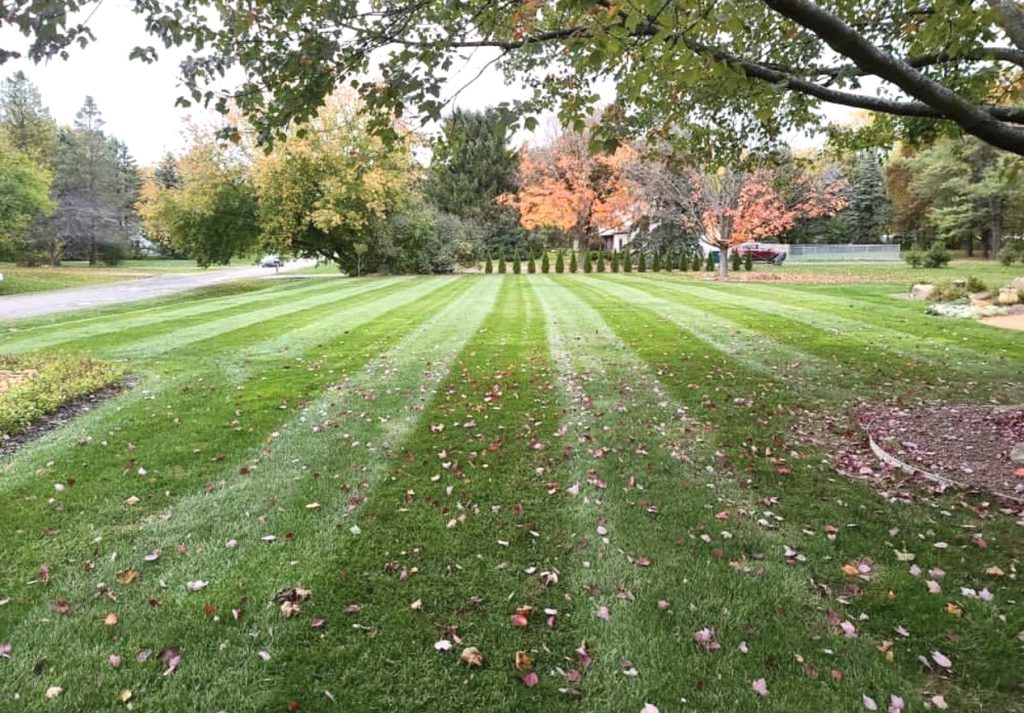 Hot and dry Michigan summers can lead to many bare spots on your lawn in the fall. If the bare spots continue to stay brown into the season, it is best to add grass seed to the lawn. Any area bigger than a pizza needs to be reseeded to encourage growth. One reason to overseed in the fall is because soil temperatures are already at 40-50 degrees Fahrenheit, which is good for cool grass seed germination.  During the fall, there is less stress on the young grass because it doesn't have the same high daytime heat as the summer. During cooler weather, there is also more moisture in the air at night and morning which is great for germination.
Before seeding the lawn, be sure to clear the area of any dead grass or debris. This gives grass seed the best chance of making direct contact with your lawn's soil. Fall is a time many homeowners prefer to aerate their lawn, giving it time to grow before spring.
Compact soil is a fairly common problem with Michigan lawns. Compact soil leads to short and shallow roots that can't withstand fall and winter conditions. What is aeration? Core aeration takes soil "plugs" from the lawn which allows water, air, and nutrients to move throughout the soil. With exposure to the fall elements and some time, root growth will start to happen in the lawn.
Whether you choose fall or spring, it is best to aerate at least once a year. This way, nutrients and oxygen can properly circulate through the roots of your lawn.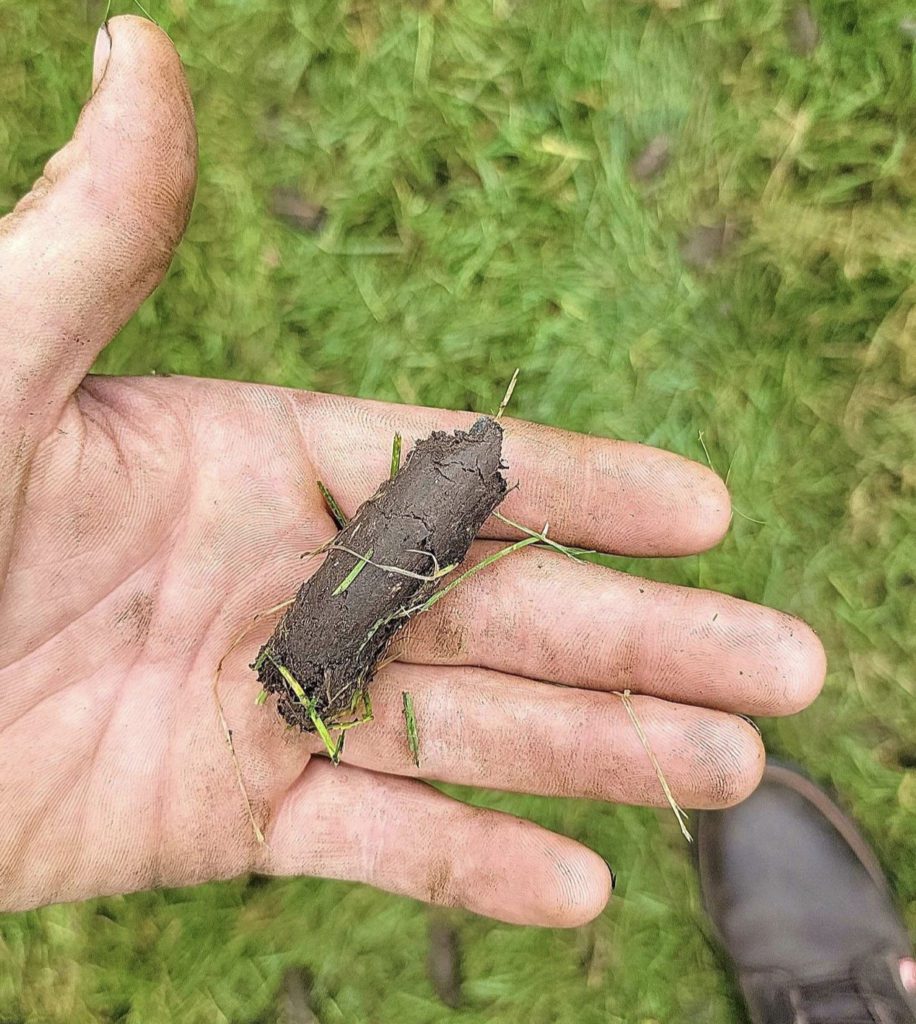 Fertilization & Weed Prevention
It's really important to feed your lawn in the fall. It's like a bear getting ready for hibernation. Adding fertilizer helps prepare your lawn to go dormant for the winter months and come back much healthier in the spring. Fun fact, a lot of weeds that come to life in the spring are actually being spread to your lawn in the fall. This is why you want to put down a weed preventer or a pre-emergent. Using these products will stop all the weeds being seeded in the fall from coming to life in your lawn next spring.
Pro Tip: If you're planning to use pre-emergent, you cannot use it at the same time as overseeding. The reason is, that the pre-emergent will not only block the bad seeds but also the grass seed from germinating in your lawn. If you plan to use pre-emergent but also need to overseed, there is one product, Scotts Turf Builder Triple Action for Seeding which allows grass seed to still germinate while killing the weeds.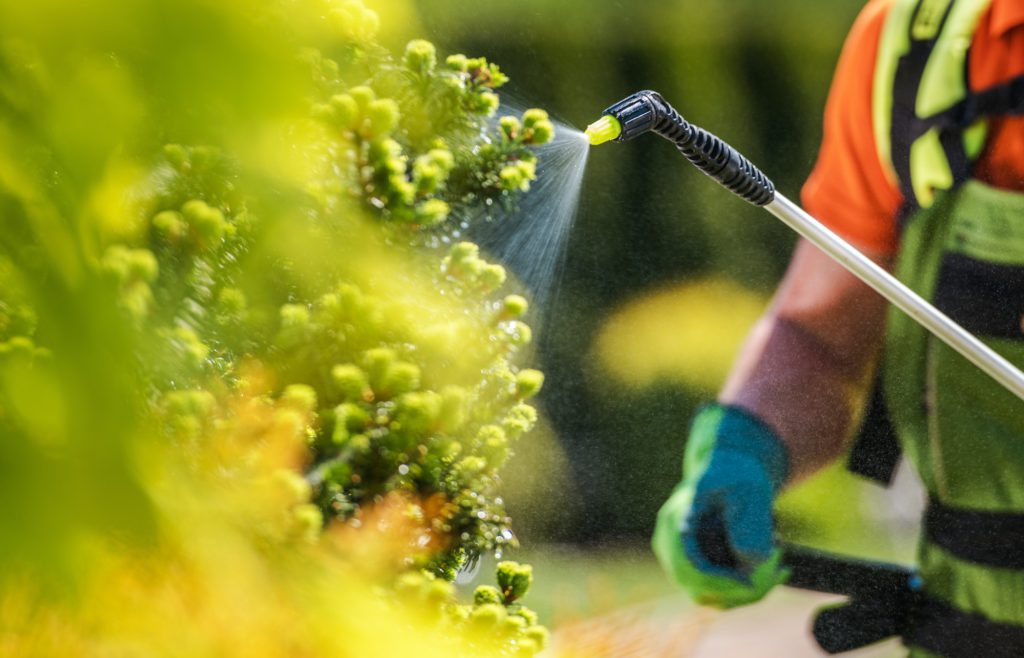 Getting ready for winter can feel like a tricky task. No need to worry though, you are prepped with the best fall lawn care tips for Michigan homeowners. Don't put off taking care of your lawn, without proper care your grass will die throughout the winter. If your schedule is busy, consider reaching out to your local LawnGuru Pro to take some of the strain off your to-do list.