As sweater weather rolls in and many start thinking about their first Pumpkin Spice Latte, it can be easy to forget about your lawn. After all, most of you probably use LawnGuru's "set it and forget it" weekly lawn service. Your Pro is at your house like clockwork on the same day each week, so we don't blame you for forgetting about your lawn, let alone what the ideal fall lawn length should be!
How low to mow your lawn in the fall really depends on what type of grass you have! Here's a definitive guide to the optimal fall lawn length for your final cut this season!
Cool Season Grasses
Gradually, you'll want to cut your grass down to around 2.5″ before the first frost.
Warm Season Grasses
Warm-season grass should be mowed to 1.5 or 2 inches in the fall.
Which type of grass do you have?
Check out the diagram here provided by The Lawn Institute to help you figure it out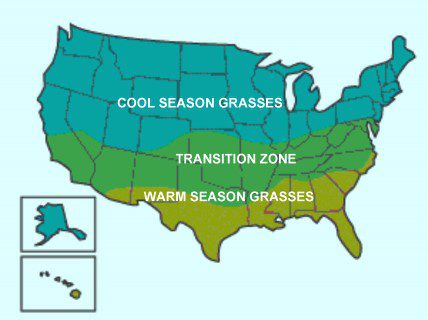 Before You Mow Low, Remember This!
Not too short: The blades of grass act as a shield protecting its roots from inclement weather. Cutting a lawn too short will expose the roots to the harsh cold, throwing your lawn into shock. This means your dormant lawn may not come back in full swing and instead spend the spring recovering.
Not too tall: Leaving grass too long going into winter will result in a tangly, matted lawn. This is the perfect breeding ground for unwelcome bacteria and fungus to grow. Bacteria = lawn disease and lawn disease will quickly take your fab grass, to drab grass!
Just right: Regardless of the grass you have, when it comes to fall lawn length, you want to shoot for mid-length grass. The best way to protect your lawn going into winter is to find a balance!
[su_button url="https://lawnguru.co/services/" target="blank" style="flat" background="#6FB734″ size="15″ center="yes"]Get Your On-Demand Cut[/su_button]
3-Steps to Winterizing Your Lawn