Each month we recognize a standout provider who has demonstrated excellence across the board. This November, it's Ronnie C. in Detroit!
📍 Service Area: Brighton, New Hudson, Northville, Novi, South Lyon
✔️ Background Checked
🌿 3,114 Jobs Completed
⭐ 4.98 Customer Rating
📅 Joined LawnGuru: May 2015
All of our providers are extremely skilled, yet Ronnie sets himself apart for
how uniquely multi-faceted he is.
LawnGuru helps pros build a route by filling in schedule gaps and adding customers to their client base. For Ronnie, the app is a means to turn his outdoor service expertise into dollars to fund his schooling.
He's a top tiered LawnGuru Pro and an integral member of two bands all while working through his masters program at the University of Michigan.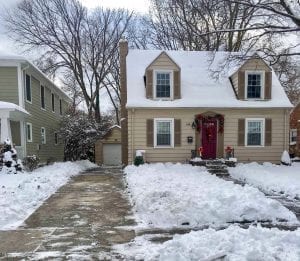 He started out with a love for the outdoors and knew he could capitalize on that at a young age. Cutting grass in high school helped put him through his undergrad but he wasn't satisfied and wanted to further his education.
Being business minded and operating a lawn company gave him the skills and mindset to work hard without limitation.
"I enjoy landscaping but I know it's not something I want to do forever. It's important to do what you love so I decided to head back to school to study clinical social work."    

We've been grateful to work with Ronnie season after season season which is common for LawnGuru Pros as our turnover rate is so low. The crews we work with tend to stick around allowing us to build professional relationships and friendships with many. 
Ronnie is days away from obtaining his masters degree all while working his way through his leaf cleanups.
Above all, we've been able to see him excel in his own environment.
When he plays locally we head down to see his shows, and we have to tell
you, he's got a talented group! There's something special seeing hard work and preparation meet at the sweet spot of success.
Aside from being remarkably musically inclined, he's also well traveled-having spent months backpacking through Europe on numerous occasions. If we ever need to know a good wine pairing, Ronnie's just a quick text away and we have our answer.
So what's his favorite part about LawnGuru?
LawnGuru popped up on Ronnie's radar through a network of friends from high school who were also doing lawn and landscape work. After hearing their opinion on the app, he decided to apply and start his own part time route. For Ronnie, the beauty of using LawnGuru is that he can pick up dozens of on demand jobs throughout the week that work around his busy schedule.
Final Thoughts
We admire and respect all of our providers, and feel honored to work with such determined guys & gals. As we round out our first full year of honoring our Pros of the Month, we'd like to thank not only all of the providers who were featured but every single LawnGuru contractor. If it wasn't for you, we wouldn't be us!
Read more about our previous Provider of the Month here!
Are you a LawnGuru Pro, or do you have a Pro that's a cut above the rest? Nominate them for Provider of the Month!
[su_button url="https://lawnguru.typeform.com/to/tqBwzn" target="blank" style="flat" background="#6FB734″ size="20″ center="yes"]Nominate a Pro![/su_button]