Each month we recognize a standout provider who has demonstrated excellence across the board. This
October, it's James A. in Detroit!
📍 Service Area: Macomb, Rochester, Sterling Heights, Troy, Warren
✔️ Background Checked
🌿 282 Jobs Completed
⭐ 4.96 Customer Rating
📅 Joined LawnGuru: July 2019
Not everyone can lay stripes as nice as these and while James may be a rookie provider within LawnGuru, he's quickly proved to be just as capable and diligent as any of our long-tenured veterans!
We have none other than Craigslist to thank for introducing us to James. Seriously. Since joining our team in July 2019, James has DOUBLED his revenue and increased his customer base tremendously without sacrificing the quality or best-practices that make him a stand out provider. It's remarkable for us to see how fast James has gone from fresh applicant to minting new requests by name.
They say the view is always better at the top.
This trailblazing success isn't where James started, and his journey to and within the industry has been anything but easy. In 2017 while working on a job with his own roofing business, James fell 38-feet suffering a devastating back injury. After 10 months unable to walk and 6 months of assisted walking, he was finally back on his own two feet and ready to start anew – literally. While he knew roofing wasn't the path forward, James also knew he had a deep reservoir of knowledge & experience that could translate to his next business in another industry.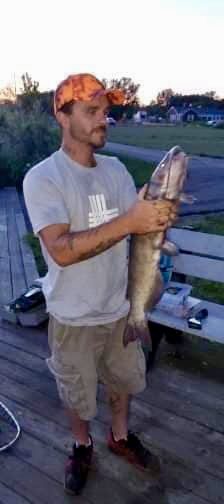 Anyone who knows James knows that he wasn't going to let an injury take control of his life or limit his potential. His unwavering positive attitude and bottomless will power are admirable.
"Life with a sciatic nerve injury and severe pain has its ups and downs but you just have to remember, your kids are watching," says James.
As if teaching himself how to walk again so he could build another business and raise his kids wasn't remarkable enough, James also finds time to look out for his community.
Ken B. from Southfield said, "I have to leave positive feedback for my provider. He scared away a guy trying to steal a package from my house when he arrived. He hid the package for me. He really went way above and beyond."
Family over everything.
LawnGuru is about so much more than helping small businesses grow; it's about the families they support. 
When James isn't busy kicking-A#$ and taking names landscaping, you can catch him out on the lake fishing, hanging with his wife, Kyra, or as he'd say, "annoying my daughters, Alice and Lucia."
His motivation has always been his family. "I have to set an example for my daughters to show them what they should look for in a man." It's clear from the way James interacts with LawnGuru customers, that he's an incredible role model for his girls.
Read more about our previous Provider of the Month here.
Are you a LawnGuru Pro, or do you have a Pro that's a cut above the rest? Nominate them for November's Provider of the Month!
[su_button url="https://lawnguru.typeform.com/to/tqBwzn" target="blank" style="flat" background="#6FB734″ size="20″ center="yes"]Nominate a Pro![/su_button]