This is Part 3 of The Ultimate Guide to Becoming an Elite LawnGuru Provider. If you missed Part 1or Part 2 go back and give them a read. For now, let's move along and setup up your Facebook Page.
Why a Facebook Page Can be Great for Business
If you're wondering if you still need Facebook page for your business, remember that nearly 3 billion people use Facebook every month, and there are 140 million businesses already on this platform to connect with those people. This isn't something to skip out on, your customers are looking to make sure you are trustworthy and reliable, not showing up on Facebook can cause you to miss a lot of opportunity.
How to Set Up Your Facebook Page (8-10 minutes)
If you already have some basic photos, text, and ideas laying around, all you'll need to do is follow a few easy steps to get your Facebook page running and linked up.
Step 1: Start by logging into your personal Facebook page- you need this so you can link your page to your business account. However, none of your personal information will be visible on your business page, it's purely to connect them together for you, so you don't have to worry about any of your personal information being shared or shown.
Step 2: Now that you are logged in, go to facebook.com/pages/create and select the page you want to create. For lawn care, pick "Business or Brand" and click "Get Started".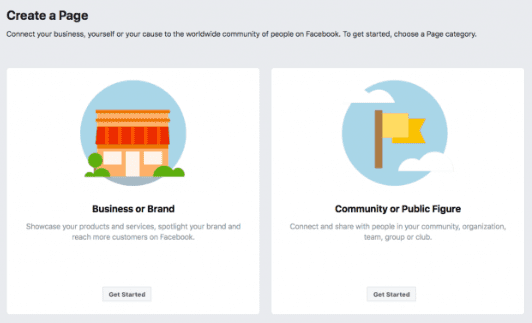 Step 3: On the next page, enter your business information, use the same information you did on your Google Business page. This helps maintain consistency across all of your online accounts.
Step 4: After this, you'll start to build your page with profile and cover images. For your profile picture, use your logo if you have one- if not, try a photo of something that represents your service well. For your cover photo, try to use a photo that conveys a message of what you do, and what your brand is about. It's the biggest photo on the page, so make it stand out!
Step 5: And with that, your page is set up! It's live and ready to go. there are a few final touches you should add to finish it up.
Adding the Final Touches for a successful Page
Step 6: First, you want to create a username so people can find you. Make it easy to type and remember so people can search for you easier.
Step 7: Next, add in your business details, just like you did for your Google Page. For the same reasons, your customer might check your Facebook page to see your bio, website, location, contact information, hours, and more.
Step 8: Click "Edit Page Info" in the top menu, and add your description, categories, contact information, location, hours, and anything extra that you see fit.
Step 9: Additionally, Facebook allows you to tell your story where you can add a longer description of your business. To add this, click "See more" in the menu on the left, click "About", and then click "Our Story" on the right to add. This isn't by any means necessary, but if you have a story that you like, add it in! Click "Publish" to add it onto your page.
Step 10: To get started building your page, create your first post that might show some value to your customers, or add some photos of your best work! We love to show off our best providers work, and it's a great way for you to show off what you can do too. If people like what they see, they will be more inclined to trust you to do the same for them. Again, remember that a lot of these people have never seen you before, so it's crucial to earn their trust and stand out from your competitors. You can always use a simple caption related to the work, and a small call to action to tell your customers where they can book service- it's another great place to plug your provider website!
It's Time to Publish Your New Facebook for Business Page
Once you've completed everything above, click "Publish Page" to make it live. Remember to invite all of your existing Facebook friends to like your page- use whatever social media you have to promote it too! Gathering likes on your page and posts is a great way to show social proof, just like getting more reviews on your page.
Always Include a Call to Action Button
Finally, you want to make sure your page has a call to action for any new visitors. Click the blue box that says "Add a Button" and choose the button you want. In our example below, we have "Book Now", but you can choose whichever button would make the most sense for you.
This is a perfect place to link to your LawnGuru provider website, where visitors can seamlessly book service and request quotes from you. As a reminder, don't forget to add this website to your Facebook page too! This gives people two ways to reach your site and book service.
Our page facebook.com/lawnguru.co is below- you can see how we added our logo, cover page, general information, and have our recent photos and posts shown. Don't forget to drop us a like!
Remember to Keep your Pages Active and Up to Date
As a reminder, try to keep up with content and messages whenever you can, and try to always gather more page likes, and customer reviews on your Facebook and Google Pages! Visitors can easily tell the difference between an active and responsive page and one that get's little attention. By maintaining your online presence you're letting your customers know they can trust and rely on you as a service provider.
Continue to Part 4