Now that your social media is all set up, it's time to make use of it by growing your following. This is Part 5 of The Ultimate Guide to Becoming an Elite LawnGuru Provider. If you missed parts One, Two, Three or Four we recommend checking them out first. In Part 5 we'll discuss best practices for gaining followers and ultimately more customers through social media.
Rank Higher, Get More Customers, and Grow Your Business
Now that you have set up your social media and websites, it's time to make sure they go to use. These assets are what you make of them. Investing time and effort into them each week can go a long ways towards growing your online reputation.
How to Rank Higher on Google Local Results
How can you rank higher on Google and leverage your website and Facebook page for more trust? This is called SEO, or search engine optimization, which in plain English means that you rank higher when people search for things related to your business. The higher you rank, the more visitors you'll get and more visitors should lead to more customer. If they like what they see, they will reach out to contact you! This is why it's crucial not just to rank high, but to show off all that you can.
Ask yourself, if you were looking for a qualified local professional, who would you pick? A company with no business information, a few mediocre or negative reviews, no website, and no social media? No way. You'll look for businesses that rank the highest. The ones with the best reviews and great websites showcasing their work.
So, how do we leverage these assets to stand out?
Grow on Google
Let's revisit our Google search for "Detroit restaurants". What makes this specific restaurant rank so high? Well for starters, it has the word Detroit in it, so that helps to match the restaurant to the search. They also readily display all the important information you're looking for like styles of dining, delivery, reservation links, contact information, and a Q&A section. They also have a lot of high rated reviews which is very important.
All of this is noticed by a prospective customer and builds what we call 'social proof'. When a business has a lot of positive reviews, photos, product and service offerings, locations, and a website it makes it easy to trust them and give them a shot. If a local restaurant had only a few reviews, no photos, and no information, it's very unlikely they would get customers excited to visit.
Remember, when your customers are happy with the work you did, don't be afraid to ask for reviews on Google, and others social medias like Facebook. Positive reviews can go a long ways, and their value compounds over time. Giving a little extra to receive in return is a great way to grow your business and help more customers. It's not just about reviews, it's lasting relationships built from good experiences that lead to long term customers, and great reviews make you and your customer happier and better off.
Grow on Facebook & Instagram
Let's remember these concepts and apply them everywhere for your business. How can your lawn care services look the best? Make sure you have all the information and social proof you can. Let's check out social media, here's our Facebook and Instagram for example (give us a follow while you are at it!).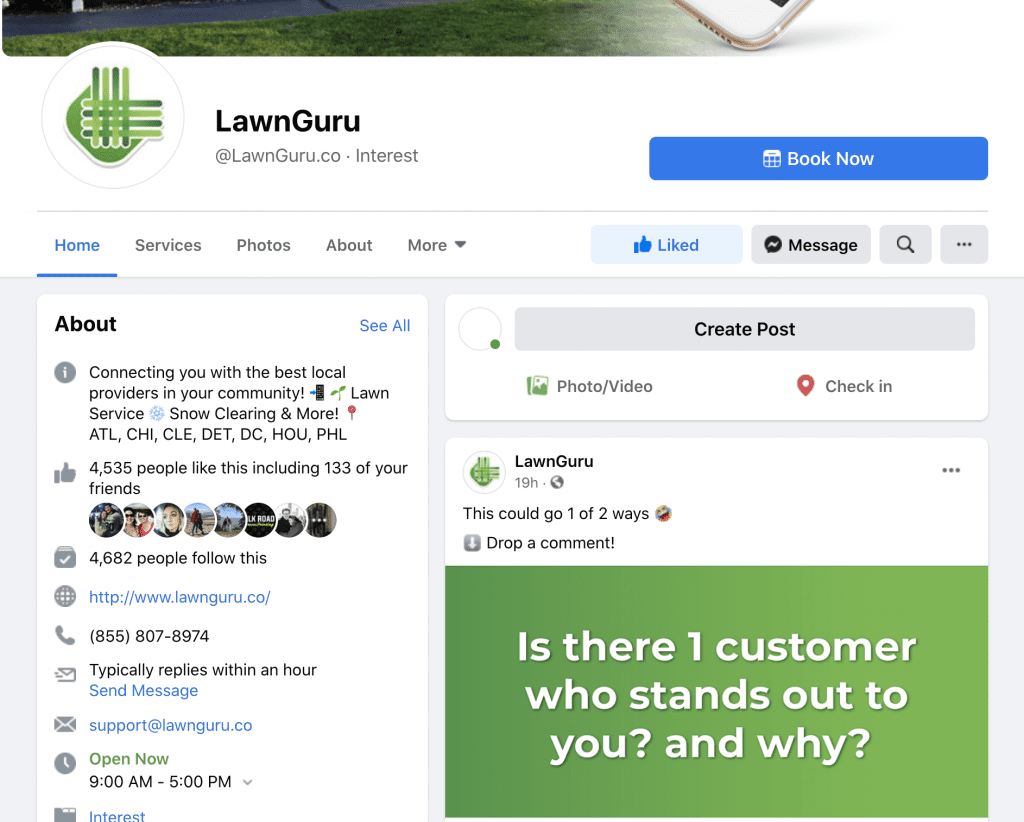 How to Make Your Business Stand Out
What makes our business look trustworthy, reputable, and worth looking into more? For starters, we have a consistent brand presence across our pages- the same logo, photos, descriptions, links, information, and general branding. Beyond that, we are constantly posting content to remind our followers of us, and to show new visitors that we are active. We frequently post photos of our work, stories on our social media, and give new and returning customers proof of what we do, where we do it, how we do it, why we do it, and why our providers and customers love it. Active posting is not necessary, but it helps to build engagement and proof of work. We recommend trying to post photos of your work a few times a week or at least a few times per month. Luckily, Facebook and Instagram are connected, so posting on one platform means you can tap one button to share them on both- this makes things far easier.
Beyond our posting, we also have good social proof with a lot of followers, page likes, and reviews. It's important to note that on all our social media pages and our websites, we give places where customers can reach us or learn more. This is crucial to allowing the customer to take the next step. Make sure you do your best to build your social media with some active content, contact information, and social proof to show off your best work and reviews.
And again, don't be afraid to ask your customers for reviews, follows, likes, or referrals! If your service is great, your customers will happily do these things for you. If you'd like, you can even offer a discount or free service to your customers for the people they refer. It's an investment into your future growth, and a win win for everyone.
In part six of this guide will go over our final step to bring it all together – Leveraging Your LawnGuru Website & App.
Continue to Part 6