Each month we recognize a standout provider who has demonstrated excellence across the board. This February, it's Jason P. in Detroit!
📍 Service Area: Brighton, Hartland, Highland, Howell, Milford
✔️ Background Checked
🌿 201 Jobs Completed
⭐ 4.90 Customer Rating
📅 Joined LawnGuru: December 2018
This fire fighting, Brazillian Jiu Jitsu training, all-around outdoorsmen earned MVP Guru status and just so happens to be a top lawn care provider in the Brighton area.
We've never featured a "rookie" Pro before, but when we saw the results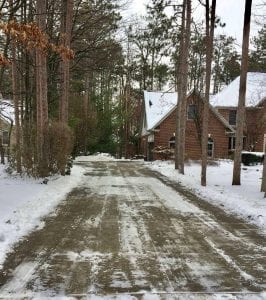 Jason put on the board, we knew we had to recognize his performance!
Joining LawnGuru this winter, Jason took the platform by storm, literally. He plows an average of 50 jobs per snowfall and consistently earns high customer ratings.
He pays close attention his customer ratings and uses them to improve experience & service. He knows Judy T. on Packard St. prefers extra salt on her porch while Randy O. on Greenview Dr. wants service at the end of his plow route.
Communication is Key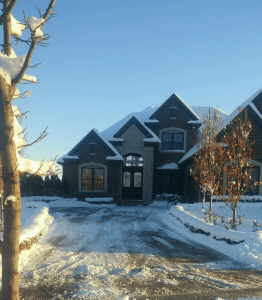 From roofing to landscaping, he knows first hand how much satisfaction can be created with quick replies and useful updates.
The best ideas have a way of popping up in the least expected place, exactly when they're needed, so it's no surprise to hear how Jason first got word of us. 
"I found out about LawnGuru at Thanksgiving dinner when my cousin said she uses it for a house she has in another state."
We did a fact check, and his cousin is a LawnGuru user in Cleveland! On the spot, Jason downloaded the app and applied to become a Pro.
While he's new to LawnGuru, he's no rookie to outdoor service. Like most pros, he started mowing neighbors' lawns as a teenager with his buddy.
Being a roofer and nothing seemed over his head, pun intended. Then, the recession hit.
With his cash flow drying up, he was forced to lay off his employees and close his roofing business.
Jason's survival instincts kicked in and he reverted back to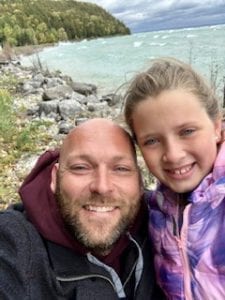 what he knew would pay the bills, lawn mowing. His motivation has always been his daughter, Bella. She's what drove him to start his own company which would grant him the ability to provide for her along with the scheduling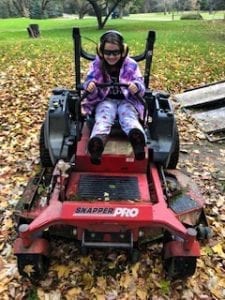 flexibility to be the father she needs.
"She's been riding on the mower with me since she was young and last year she mowed her first lawn by herself." We're with Bella, and are casting our 'Father of the Year' vote for Jason.
So why join LawnGuru if you already own your own company?
"LawnGuru allows me to do a lot more work since I don't need to go to the job and give a price which saves a lot of time. Additionally, the quick pay really helps with cash flow."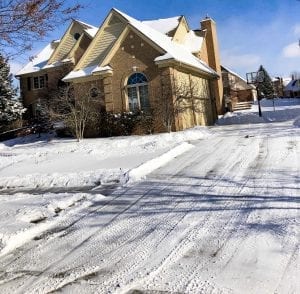 Jason will tell you exactly what it's like to be a real-deal Snow Guru, and he's looking forward to extending his mastery to the lawn side of the app this spring.
If you live in southeast Michigan, you may even catch Jason out mowing while jamming to some tune. And when he's not striping lawns, you better believe he's fishing, camping or kayaking with Bella.
Read more about the previous Provider of the Month here. 
Are you a LawnGuru Pro, or do you have a Pro that's a cut above the rest? Nominate them for Provider of the Month!
[su_button url="https://lawnguru.typeform.com/to/tqBwzn" target="blank" style="flat" background="#6FB734″ size="20″ center="yes"]Nominate a Pro![/su_button]