It is a common experience growing up watching sitcoms. Whether it was a household favorite or just something to pass the time, sitcoms have become a big part of many people's childhoods. All sitcoms have different storylines and focus on different family dynamics. One thing that reigns true for the majority of sitcoms is the presentation of the outside of their homes; either in the opening sequence or as an establishing shot. Constantly watching episodes of these sitcoms allows the audience to become familiarized with the look of each family's house. Some are real locations that even become tourist attractions! I'm sure everyone has argued which iconic sitcom house is the best, but have you ever thought to rank their lawns? Well, we did. 
#1 The Fresh Prince of Bel-Air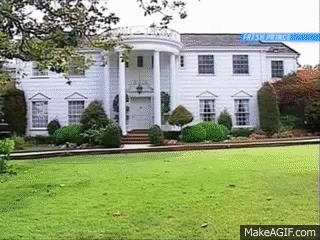 Coming in at number one is the residence residing in Bel Air. The house that is pictured in the opening sequence of The Fresh Prince of Bel-Air is a stunning white chateau that is meant to grab the attention of the viewer and key them into the financial status of the family that Will is staying with. It has huge white pillars and makes Will look small when he is in front of it.  He even refers to the house as his 'kingdom'. What people do not notice is the stunning lawn and landscaping surrounding that palace. To start, the grass is consistently a bright green, showing health and hydration. The shrubs arranged in front of the door seem to be trimmed to perfection, and to look that uniform they are probably worked on at least once a month. This beautiful, spacious land and the obvious upkeep grants this sitcom the highest ranking. 
#2 The Brady Bunch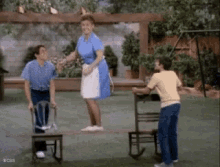 The Brady residence's backyard appears multiple times throughout the series. It is often a place where the children go to play or do an activity. For a small lawn that has to handle the wear and tear of eight children, it seems to be kept up very nicely. The grass always looks extremely short and groomed, almost as if it were turf, and it always looks healthy. Since this is a place for kids to play and hang out, it is understandable that there is not much landscaping surrounding the lawn. Instead, there are multiple playground objects and toys. While the structures are amazing ways to keep kids entertained they are also huge obstacles for an armature lawn mower. I wonder if Alice was talented in the landscaping field or if they had a LawnGuru Pro of their own. 
#3 Full House
Perhaps the most iconic and recognizable property is the 'Full House' house that the Tanner family resides in. As they live in San Francisco, it is not unlikely that they do not have a front lawn. However, that will not stop us from judging their greenery. If you are a fan of the show or have caught a few episodes you will know that the Tanners have a backyard that they often use for leisure, play, or even family meals. While their lawn is always looking kept and never seems to be out of control, the ground is often seen covered with leaves. These leaves seem to appear to make the backyard not look too polished, perhaps for realistic weather related reasons. However, the set designers may have forgotten who they are dealing with. One of Danny Tanners' greatest traits is that he is a clean freak and enjoys keeping things tidy. Surely he would not enjoy a messy lawn. But, okay, let's say Danny is busy, there are two other adult men as well as two capable daughters that can help out with the yard work. I say there is no excuse for a lawn full of leaves, leading me to rank the full house lawn as third on the list. 
#4 Modern Family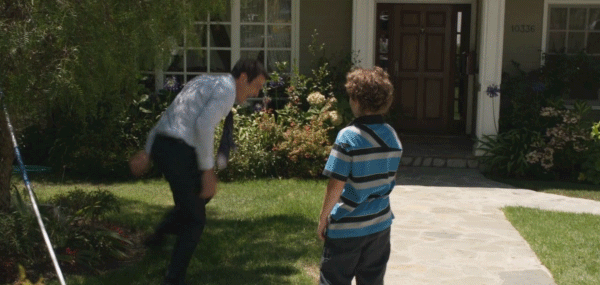 The Dunphy family residence is one out of three main locations of the show. The front yard of their house is often used for scenes and is perhaps the most recognizable of the three. In the show not only do we see the lawn used as a background for their family portraits in the opening sequence, but it also has lots of foot traffic and hosts many of the families' diverse activities. Their grass appears to look well kept, however the plants and shrubbery surrounding the house are often left to grow free. Phil and Claire Dunphy are hardworking people and dedicated parents, so perhaps lawn care is not high up on their to do list- seems like they need something like LawnGuru to help them out! The spatial coverage of the grass looks very difficult to mow around, surrounded by two walkways with a large tree planted in the middle. Though the Dunphy family is probably more than happy with their family-friendly lawn, we feel it must be ranked fourth. 
#5 Family Matters
Due to the location of the Family Matters house, this family did not have much square footage to work with regarding their lawn, making it the worst-ranked lawn. Don't get me wrong, we love Chicago! Heck, we cut a lot of grass there! That being said, the front of the home is partially fenced in by short bushes that are trimmed evenly and are a lovely forest green. This pop of color adds a lovely component to the neutral tones of the home.  Though the lawn seems to be a small patch of grass behind the bushes, I doubt it is a place for play or leisure.  The lack of lawn might help to explain why Steve Urkel always let himself right inside the house with no invitation. 
[su_button url=" https://lawnguru.co/services " target="blank" style="flat" background="#6FB734″ size="20″ center="yes"]Get a Sitcom Ready Yard![/su_button]